Plateau Gov Speaks On Recruiting Militia To Fight Terrorists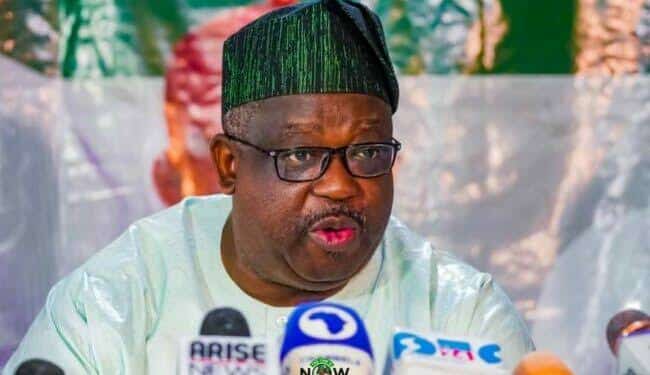 Governor Caleb Mutfwang of Plateau State has denied claims that his administration was recruiting militia groups to fight terrorists who had attacked several communities and killed several residents in the North-Central state.
In a statement on Sunday, the governor's Director of Press and Public Affairs, Gyang Bere, reiterated Mutfwang's commitment to maintaining peace in the state.
The governor reassured Plateau citizens of his unwavering dedication to fostering a united and inclusive Plateau.
The statement read, "Plateau State Governor, Barr. Caleb Manasseh Mutfwang, has in very strong terms condemned a misleading statement concocted by mischief makers, alleging that his administration is clandestinely recruiting and training militias disguised as counter-terrorism operatives.
"The governor attributes this baseless claim to some individuals who are crisis merchants that do not want peace to return to the state, emphasising its deliberate intent to mislead citizens and instigate confusion.
"Governor Mutfwang vehemently refuted these unfounded allegations, pointing out that his administration is committed to reinforcing the established state security outfit, 'Operation Rainbow'. This initiative, he said, is being conducted in collaboration with federal security agencies and is aimed at enhancing the protection of rural communities across Plateau State.
Story continues below advertisement
"Governor Mutfwang clarified that the selection of competent and trustworthy youths from the 17 local government areas for training is solely focused on providing early warning signals for prompt interventions by conventional security agencies. He stressed that the ongoing training, initially prioritising areas facing significant security challenges, will extend to other council areas without delay."
© 2023 Naija News, a division of Polance Media Inc.
Full Story: https://www.naijanews.com/2023/11/20/plateau-gov-speaks-on-recruiting-militia-to-fight-terrorists/
TAGS: #Plateau #Gov #Speaks #Recruiting #Militia #Fight #Terrorists