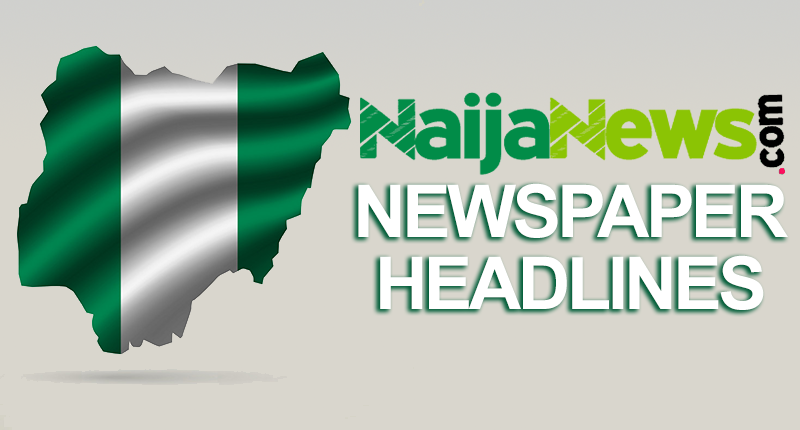 Good morning Nigeria, welcome to Naija News roundup of top newspaper headlines in Nigeria for today Saturday, 24th April 2021.
Bandits who stormed Greenfield University, a privately-owned tertiary institution in Kaduna State, and kidnapped some students have killed three of the students abducted on Wednesday.
Naija News had on Wednesday reported how armed men invaded the school after shooting the security guard on duty and abducted some students.
The Commissioner for Internal Security and Home Affairs in Kaduna State, Samuel Aruwan in a statement released on Friday, said the remains of the three students were found at Kwanar Bature village, a location close to the university, on Friday.
"In an act of mindless evil and sheer wickedness, the armed bandits who kidnapped students of Greenfield University, have shot dead three of the abducted students."
"The armed bandits on Tuesday night kidnapped an unspecified number of students at the institution located at Kasarami village off Kaduna-Abuja Road in Chikun LGA."
Nigeria has been rated as the number one country in the world where citizens have the worst access to electricity.
According to the latest report by World Bank Group officials, Nigeria has now overtaken the Democratic Republic of Congo which initially held the unwanted record.
Apart from overtaking Congo, the World Bank submitted that the trend is worsening in Nigeria.
The World Bank made the announcement during a virtual engagement with power reporters in Abuja on the Power Sector Recovery Programme (PSRP), disclosing that Nigeria has 25 per cent of people without access to electricity.
It noted that while electrification in the country has been growing at 1.1% yearly since 2010, it has not kept pace with the population growth of 3% yearly and has therefore increased the deficit by 3 million people to 85m which is 57% of the population.
A video has gone viral online of a top Nigerian Army commander saying a repentant Boko Haram terrorist can emerge as President of Nigeria.
The video which has been generating lots of reactions comes amidst the controversies surrounding the allegations that Nigeria's Minister of Communications and Digital Economy, Dr. Isa Pantami has links with some terrorist organizations like Al-Qaeda, and Taliban.
According to the video, Gen Abdulmalik Biu said "an ex-Boko Haram stands having laid his arms and turned away from his negativity, he stands to be a president of this country, he stands to aspire to any position in this country."
Biu is someone who has worked closely in the fight against terrorism in Nigeria, serving in various positions including the Acting General Officer Commanding (GOC) 7 Division Nigerian Army and Commander Sector 1, Operation Lafiya Dole.
Boko Haram terrorist on Friday evening attacked the town of Geidam in Yobe State.
It was reported that the terrorists which invaded the town around 6 pm came in eight vehicles and carrying weapons.
A resident of the community that spoke with Daily Trust, said, "Their motorcade moved straight to the location of Kafela primary school as they started sporadic shooting.
"We are currently indoors praying for our safety, that's all I can say for now"
The attack has been confirmed by the spokesman of the Yobe State police command, Dungus Abdulkarim, he added that the air force fighter is already in Geidam providing reinforcement.
Governor Nasir El-Rufai of Kaduna State has proffered solutions to the incessant attacks by bandits in the state and across the North West region of the country.
Speaking during a programme on Nigerian Television Authority (NTA) on Friday, El-Rufai advised the federal government to start building schools near military camps to curb attacks by bandits in the state.
He noted that another way to curb attacks is by ensuring that schools are fenced, saying that unless schools are fenced, criminals will have access to schools.
The governor noted that the attacks can be foiled if troops are able to get to the affected school within 30 minutes.
The Governor of Delta State, Ifeanyi Okowa, on Friday said Nigeria is in trouble times with economic downfall and an increase in security issues.
Okowa in his statement called on Nigerians to pray that God should change the situation.
He said, "Many people are hungry and can no longer feed themselves because they can't farm the way they used to due to growing insecurity.
"Pray for our nation because we are in troubled times; the country is insecure and our state is not left out because whatever affects the country affects the states.
"We are in troubled times because many people are hungry and can't feed themselves, but we have hope that God will take control and change things for the better.
Nigeria's House of Representatives has revealed when it will consider the motion demanding the sack of the embattled Minister of Communications and Digital Economy, Isa Pantami.
Naija News had reported how the House Speaker, Femi Gbajabiamila, faulted the Minority Leader, Ndudi Elumelu, for raising a point of order calling for the sack of Pantami over his past views supporting terror groups such as Al-Qaeda and Taliban.
The speaker knocked the lawmaker for raising an external matter under privilege, which concerns issues that affect only lawmakers.
When plenary resumed on Thursday, a Borno lawmaker, Ahmed Jaha, drew the attention of his colleagues to reports claiming that the house blocked a motion on Pantami.
President Muhammadu Buhari-led government has been condemned by the Peoples Democratic Party for defending the Minister of Communication and Digital Economy, Isa Pantami, over pro-terrorist comments he made in the past.
Recall that the President's spokesman, Garba Shehu, in a statement on Thursday condemned the calls for the Minister's removal from office.
The Buhari government noted that Minister was young when he made the comments, adding that his position has since changed.
However, the PDP in a statement issued by the National Publicity Secretary, Kola Ologbondiyan, said the regime's statement which "shows a desperation to provide official cover to a terrorism apologist further confirms public and international apprehensions that the Buhari administration and the All Progressives Congress (APC) are patronising acts of terrorism in our country."
The Wife of Ekiti State Governor, Mrs Bisi Fayemi, has said it might be difficult for a female president to emerge in Nigeria anytime soon owing to the country's hostile political system.
She said this in Ado Ekiti on Friday at an event organised by "Above Whispers Media Foundation", in collaboration with the Association of Nigerian Authors (ANA) signposting the first public book reading of her latest book titled: 'Where Is Your Wrapper?', to mark the 2021 World Book Day.
Fayemi, however, added that the country is ripe enough to be governed by a female President because of the vast women resources at its disposal, reiterating that the operating system might impede this from being realised now.
She warned that the female gender shouldn't misconstrue the phenomenon to mean fighting for women blindly, saying she would only defend and promote women who value dignity, self-respect and walk on the path of truthfulness.
President Muhammadu Buhari will not sack Nigeria's Minister of Communication and Digital Economy, Isa Pantami, over comments backing terrorism years back.
A source revealed that even if the minister resigns President Buhari would reject his resignation.
Speaking to Daily Post Thursday night after the president attacked critics, the source stated that despite the audio and videotapes on the internet Buhari is not willing to sack Pantami.
"The President will not sack Pantami, I can tell you this. The reason for his position is that he strongly believes any attack on his appointee is an attack on him," he said.
"He is not someone who will remove someone because people are making such demands. Look back since he assumed office, how many people has he removed on the grounds of allegations?
"Once he agrees to work with you, that's it. He won't say due to any protest or campaign, the minister should pack his bags and leave the government."
That's the top Nigerian newspaper headlines for today. Read more Nigerian news on Naija News. See you again tomorrow.
Source: Naija News
Source: Naija News

#Top #Nigerian #Newspaper #Headlines #Today #Saturday #24th #April
Post views in 5 minutes: 1 view