Regina Daniels Absent As Ned Nwoko, Moroccan Wife Grace Official Event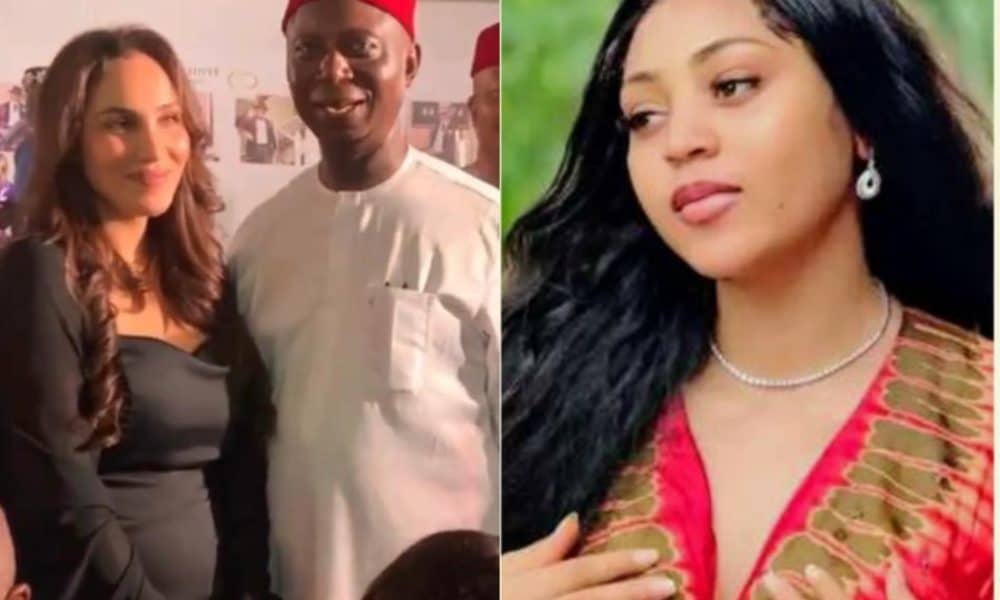 The senator representing Delta North, Ned Nwoko and his fourth wife, Laila over the weekend were captured together at an event.
Naija News reports that the video shows moment Nwoko and Laila stepped into the venue holding hands as they exchanged pleasantries with other guests.
However, the billionaire businessman's fifth wife, Regina Daniel was noticeably absent in the event.
The couple had a nice time with the Morrocan wife at some point was spotted cleaning her husband's face.
The video stirred reactions from Nigerians. Some pointed out that Polygamy is sweet when a man has money while others mentioned that Ned's youngest wife, actress Regina Daniel had to stay home as that day was for Laila and their husband.
See some reactions below;
Regina Daniels Opens Up On Marriage Experience With Ned Nwoko
Meanwhile, Regina Daniels, the wife of Nigerian billionaire cum politician, Ned Nwoko, recently opened up on details of her marriage amidst criticisms that the love-dovey moments shared online are not what she is experiencing at home.
Naija News recalls that Regina's marriage to Ned came with public outrage, especially as many critics believed the politician was old enough to be her father.
In an interview with BBC news, Pidgin, the movie star, said the feeling of marriage at their home is beyond what the public see on social media.
She stated that despite what people might assume, she lives a happy and comfortable lifestyle.
Reginal Daniels added that they shares a good laugh whenever she reads some of the hateful comments with her husband online
Copyright © Naija News 2023 All rights reserved. This material, and other digital content on this website, may not be reproduced, published, broadcast, rewritten or redistributed in whole or in part without written permission from Naija News.
LailaNed NwokoRegina Daniels
Full Story: https://www.naijanews.com/2023/10/09/regina-daniels-absent-as-ned-nwoko-moroccan-wife-grace-official-event/
TAGS: #Regina #Daniels #Absent #Ned #Nwoko #Moroccan #Wife #Grace #Official #Event