Nnamdi Kanu Issues Fresh Charge To Supporters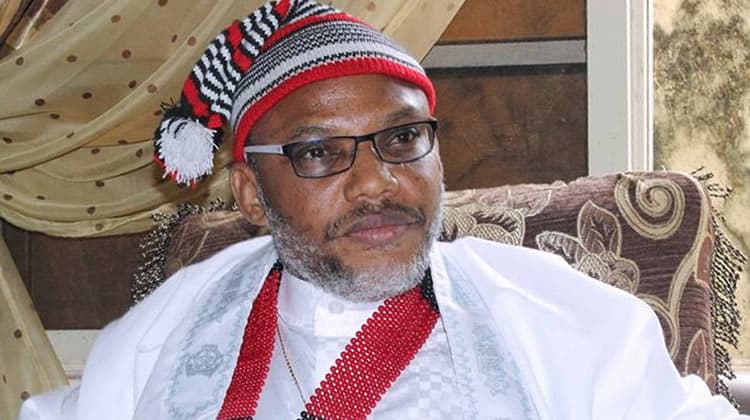 The leader of the Indigenous People of Biafra (IPOB), Nnamdi Kanu, has urged his followers to remain focused in their fight for the actualisation of the Biafra Nation.
According to him, there are several unfinished tasks ahead of them as their journey is not yet over.
Kanu gave this fresh charge on Monday when one of his lawyers, Barrister Aloy Ejimakor, visited him in the custody of the Department of State Service in Abuja.
Giving an update on his visit to Kanu, Ejimakor on Monday said, "I just exited from visitation with Nnamdi Kanu. I briefed him on our last outing at the Supreme Court, led by the new Lead Counsel, Kanu Agabi, SAN.
"He directed that the Legal Team and our people must stay focused on the many unfinished tasks at hand and that it's not yet Uhuru."
Naija News reports that Kanu's new charge comes days after the IPOB Spokesperson, Emmanuel Powerful, disclosed that the separatist group was ready to hold talks of a referendum with the federal government if they were willing and ready.
According to Powerful, the group was not begging for a dialogue with the federal government, but if the government is ready, they are prepared.
However, according to the IPOB leader's lawyer, as far as Kanu's case is concerned, "It is also an expose of the slew of cases we still have pending on his matter. And that his continuous detention means that his case is not yet over. It's an unfinished business."
Recall that the Supreme Court last Thursday fixed December 15 to deliver its judgment on Kanu's appeal that seeks to compel the federal government to release him from detention as ordered by the Appeal Court in its October 13, 2022 judgment.
Copyright © Naija News 2023 All rights reserved. This material, and other digital content on this website, may not be reproduced, published, broadcast, rewritten or redistributed in whole or in part without written permission from Naija News.
Aloy EjimakorIPOBNnamdi Kanu
Full Story: https://www.naijanews.com/2023/10/10/referendum-call-nnamdi-kanu-issues-fresh-charge-to-supporters/
TAGS: #Nnamdi #Kanu #Issues #Fresh #Charge #Supporters