Igboho: Buhari Risks Turning Supporters Of Agitators Into Violent 'Bomb Throwers' – Akinterinwa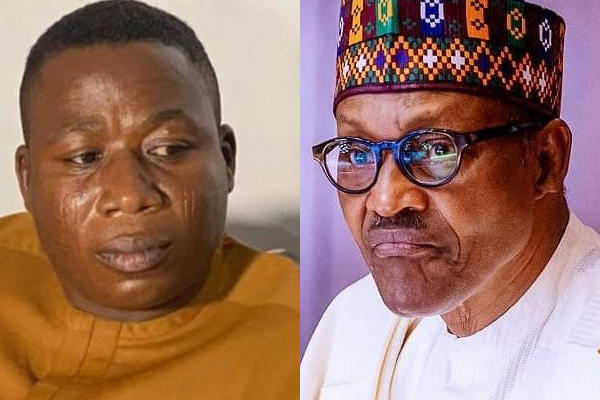 A former Director-General of the Nigerian Institute of International Affairs, Prof. Bola Akinterinwa has warned President Muhammadu Buhari against pushing agitators and their supporters to the wall.
Akinterinwa noted that self-determination agitators such as Sunday Igboho and Nnamdi Kanu are pushing for a break away from Nigeria because of issues about dissatisfaction, perceived injustice, and insecurity in the country.
He spoke on Wednesday as a guest on PUNCH Online interview programme, The Roundtable.
Naija News recalls the federal government under the leadership of President Buhari recently re-arrested IPOB leader, Nnamdi Kanu and repatriated him back to Nigeria where he is currently in the custody of the Department of State Services pending when his trial will resume on 26th July.
Again on Monday, the news broke that Yoruba Nation agitator, Chief Sunday Adeyemo aka Sunday Igboho has been arrested in Benin Republic.
At the moment, the government is battling legal hurdles to repatriate him back to Nigeria.
Speaking against the backdrop of the two developments, Prof. Akinterinwa submitted that the actions of the government against the agitators may turn their supporters into weapon-bearing violent protesters.
He added that Nigeria can't arm-twist Benin Republic into surrendering Igboho because Benin Republic, like other former French colonies, represents French interest in West Africa.
Akinterinwa said, "Nigeria can be big; nobody is saying you are not big or more powerful but it took just two terrorists to lock down the twin building in the US (United States) and for thousands of people to be killed and for America to now sit tight.
"We are treading on the same path. I think it is Shakespeare that said in Macbeth that there is no art of finding the human construction from the face. In this case, who really is the terrorist? The terrorists fighting on the battlefield are different from the terrorists that are funding them or that are outside.
"We are moving towards a situation whereby the Pro-Igbohos, the Pro-Kanus, the Pro-Self-determination (people) etc may begin now to make bombs themselves and be throwing here and there and the whole country will be disorderly. We need application of basic thinking."
He added that, "At the level of Benin Republic, if you are talking about arm-twisting, an elephant, even a lion, as big and powerful as he is, if it is bitten by a small mosquito, then you can know the consequences. It is not a question of whether Nigeria is big and powerful that you can arm-twist anybody, no, it doesn't work that way.
"The relationship between Benin Republic and Nigeria is not determined only at the level of Benin Republic. Benin Republic is francophone, that means that it is dealing with France and the relationship at the level of France and Nigeria you can understand it without any rocket science.
"The French government does not want the government of Nigeria to have the capacity to use Benin Republic or the Francophone neighbours to the detriment of French interest in West Africa as much as the government of Nigeria won't want to be used by the Francophone neighbours against Nigeria's interest in the immediate neighbourhood.
"So, even if you close borders all along, borders are not closed against the immediate neighbours, they are also closed against the French. So, any battle, any arm-twisting that you are thinking of should be put in the context of French interest and particularly the Francophone interest. Any misunderstanding between a Francophone country – whether an immediate neighbour or far-distant neighbour – is necessarily an issue at the level of Nigeria and the Francophone community; they think alike, they work together, they address issues together."
Akinterinwa stressed that even if all the agitators are arrested, it won't solve the problems and some other persons will continue to emerge.
Instead, he urged President Buhari to address the issues and challenges causing the agitations.
"Arrest all of them, extradite all of them but that won't stop the agitation for Yoruba Republic and it won't stop agitation for Biafra Republic. Biafra Republic came into being as far back as 1962; it was discussed in their palace. So, if by 1967, the war broke out…it is simply because the people felt they do not want to belong.
"If any President of Nigeria is sincere about wanting to govern Nigeria (with due respect to all others), please sit down, strategise, ask people to come: 'What really are your grievances? Okay, if you want to be sovereign, in which way will the interest of all others? We are all brothers and sisters'," he stated.
Source: Nigeria News

#Igboho #Buhari #Risks #Turning #Supporters #Agitators #Violent #Bomb #Throwers #Akinterinwa
Post views in 5 minutes: 1 view