I Didn't Join Amaechi, Other APC Chieftains To Back PDP's Atiku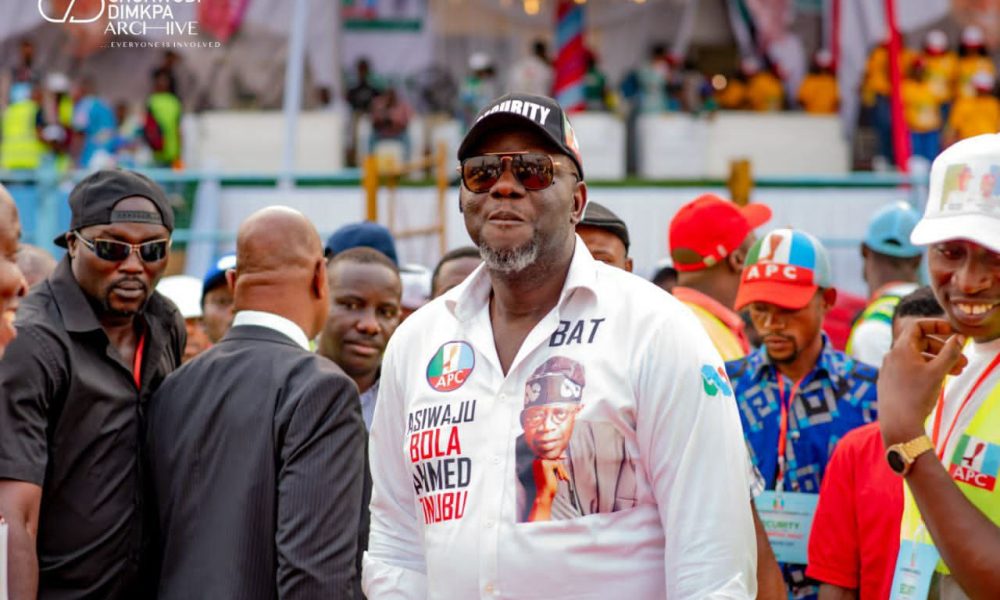 A chieftain of the All Progressives Congress (APC) in Rivers State, Engr Chukwudi Dimkpa, has reacted to the allegation that he supported Atiku Abubakar of the Peoples Democratic Party (PDP) in the 2023 presidential election against his party's candidate, Bola Ahmed Tinubu.
Naija News learnt that a factional leader of the APC in Rivers state, Tony Okocha, had on Thursday led some party chieftains in the state on a courtesy visit to the APC national chairman, Dr Abdullahi Umar Ganduje, in Abuja, where he alleged that a former governor of Rivers, Rotimi Amaechi, during a meeting attended by bigwigs of the party in the state including Chukwudi Dimkpa had asked members to support PDP's Atiku during the February 25th presidential election.
Reacting, however, to the allegations, Dimpka faulted Okocha, warning the politician to stop being an agent of disunity and distraction to President Tinubu's administration.
Dimpka, in a statement issued on Sunday through his Special Adviser on Media, Stephen Deegbara, said he was never part of the alleged meeting where whatever decisions Okocha has "conjured" were taken.
"We note that as a committed member of the APC, Engr Chukwudi Dimkpa has devoted his time, energy, and resources along with other stakeholders to ensure that the APC emerged victorious in the just concluded polls," he said.
Meanwhile, the National Chairman of the All Progressives Congress (APC), Abdullahi Umar Ganduje, has been described as a serial loser.
In a statement on Saturday, the Kano State chapter of the New Nigeria Peoples Party (NNPP) said the former governor is well known for losing competitive exercises home and away and, hence, cannot deliver Kogi and Bayelsa State for his party in the forthcoming governorship election in the states.
Addressing journalists in Kano on Saturday morning, NNPP chairman in Kano, Hashimu Dungurawa, said his former boss "is a renowned serial loser whose emergence as National Chairman was a misapplication of choice".
According to him, the ruling party made a grave mistake by picking Ganduje as its national chairman.
Dungurawa, a former aide to Ganduje, said, "Antecedents played a key role in political calculus, and we are talking of a man whose poor outing in participatory election home and away is abysmal and in effect diminished his streak of winning a competitive exercise.
"He failed to deliver Edo State in the last election and went to put up a dismal outing in the 2023 general elections in Kano State where he presided as outgoing chief executive."
He added that, "The biggest mistake made by President Tinubu and the APC leaders was the choice of Ganduje as national party Chairman, because the former Kano Governor, has no track records of political acumen to change tide when it mattered most."
"The Kogi, Bayelsa and one other elections that are coming up in November will certainly expose President Tinubu's huge mistakes over mis- -application of choice," Daily Post quoted the NNPP chieftain as saying.
He maintained that Ganduje's political trajectory was tied to Rabiu Musa Kwankwaso's magic wand, adding that it is incumbent to retrace his steps to gain relevance.
Copyright © Naija News 2023 All rights reserved. This material, and other digital content on this website, may not be reproduced, published, broadcast, rewritten or redistributed in whole or in part without written permission from Naija News.
APCAtiku AbubakarPDPRivers State
Full Story: https://www.naijanews.com/2023/10/09/i-didnt-join-amaechi-other-apc-chieftains-to-back-pdps-atiku-dimkpa-breaks-silence-on-allegation/
TAGS: #Didnt #Join #Amaechi #APC #Chieftains #PDPs #Atiku