BREAKING: Bishop Kukah Flees Sokoto As Thugs Burn Down Catholic Church He Heads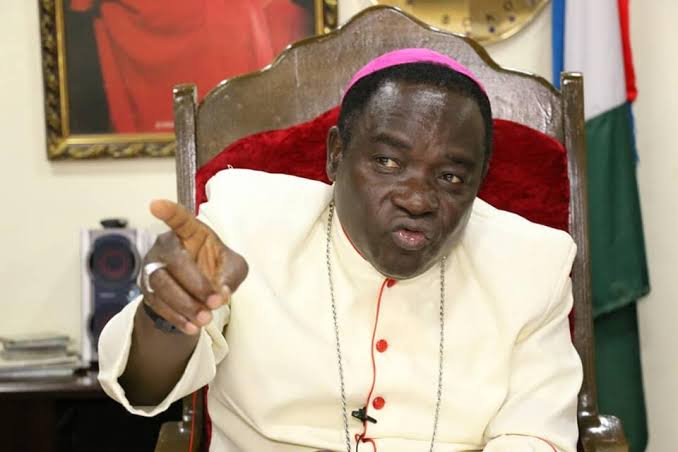 Hoodlums protesting the arrest of the suspected killers of Deborah Samuel have destroyed the Sokoto Diocese of the Catholic Church headed by Bishop Matthew Kukah.
It was gathered that the violence in the state has forced Bishop Kukah, a outspoken government critic, to flee the Northwest state.
According to Peoples Gazette, St Bahkita, which serves as the secretariat of the diocese, was set alight by the thugs according to pictures and videos shared online.
Following geo-location, the video showed that the church along Aliyu Jodi Road was the same building claimed to have been burnt by rampaging thugs.
When contacted by The Gazette, Mr Kukah said he was on his way out of Sokoto. The windy background on the bishop's end of the call confirmed he was indeed on the move.
It was gathered that the police fired teargas to disperse protesters from breaking into the church earlier in the day, but the attackers regrouped after the police vans left the neighbourhood, witnesses said.
Naija News had reported earlier that Deborah, a 200-level student of the Shehu Shagari College of Education, was lynched and set ablaze by her Muslim colleagues for allegedly insulting Islam's Prophet Mohammed.
The angry mob had stormed Deborah's hostel, dragged her out before beating her to death and setting her body ablaze.
The Sokoto State Police Command later announced that it had arrested two suspects, with investigations going on to arrest more killers.
According to the Sokoto police spokesman, Sanusi Abubakar, the mob overpowered campus security before killing the female student and setting her remains on fire.
A leaflet circulated on Saturday, written in Hausa, inviting Muslims to come out en mass to protest against the arrest of the suspected killers of Deborah.
Following violent outbreak that accompanied the protests, Governor Aminu Tambuwal of Sokoto State has now imposed a curfew to bring the situation under control.
Source: Nigeria News

#BREAKING #Bishop #Kukah #Flees #Sokoto #Thugs #Burn #Catholic #Church #Heads
Read more news >> Latest Nigeria News - Xtremenews Nigeria
Post views in 5 minutes: 34 views